Five years ago, when I searched on how to start a blog to build an online business, I felt like my head would blow away.
Instead of helping me, the crazy amount of information out there confused me more with each new article I was reading.
Everyone has his version and opinion around the making money online concept. 
Some will tell you that you don't need a blog to make money online.
If you were asking me, I would say YES, this is true. But only if you are looking for some quick small pocket change.
I've done it.
If you are looking for a life-changing business, and I hope you do ( otherwise, I don't think you would be here), a blog is your vehicle that will help you reach and cross the finishing line.
Also, read: how to easily manage WordPress when you're a beginner.
Also, read: why starting a blog is the best idea for an online business?
     WHY WOULD YOU LISTEN TO MY ADVICE?
Well, I am not an 'Internet Marketing Guru' neither a business adviser. I once was a beginner also, just like you.
You'll probably be laughing but, not only was I a begginer, I had no clue how to execute a copy and paste task. Ha!
I experienced and learned a lot. Now I want to share everything with you, and if you're going to leap, I am here for you.
I intend to make your life hard and easier at the same time.
I genuinely hope you get to know me a bit from my other articles.
If you already searched other posts about starting a blog, you probably noticed that the concept is similar.
I am not going to fool you about how super cool and comfortable it is to start a blog and how super-rich you will be by next year so that you click on any of my affiliate links and make a purchase.
I will leave this 'privilege' to others.
During all these years, I made many mistakes. Luckily I learned from each one a lot.
I have to show you the pink side but the dark side also. This is why some of my blog posts are so long.
You might be tempted to skip all the "bla, bla, bla" and get straight to the action. ( Which means that 'you are in a fire').
THIS IS ME—sorry.
If I can't prepare you to expect the unexpected, then my mission will fail.
Learn from my experience, follow the right steps (avoid my mistakes to fast track your business) and ask for help when needed.
     THE SUCCESS FORMULA IN ANYTHING YOU PLAN TO ACHIEVE
Stay Strong – Believe in Yourself – Embrace Challenges – Never Step Back
 You might want to read my Starting an Online Business that Matter first for a better understanding.
Then come back and let's move on.
I promise to show you how to start a blog the right way and build a successful online business to be proud of it.
Please Note: This article is 5430 words long and takes about 25 minutes to read, but you can always use the links below and get to the topic you're most interested in.
Any time you feel stuck, please get in touch with me here, and I'll do the best to help.
NOTE: This article contains affiliate links. If you purchase any of my recommended products/services via my links, I will get a small commission without affecting your total payment. For that, I ♥ You and thank you. I will also offer you my full support, and it will be my pleasure to help you succeed.
     You're Going to Start A Fantastic Journey.
Knowing I made a small contribution makes me happy.
This is the beginning of your blogging journey and your route to getting noticed on the internet.
This is when you can show the world you are much more than just a mother and a loving wife.
The choices you'll make now will determine how well you succeed, so making the right decision will make you good stead for a better future.
I can't provide your creative mind, and it cannot be bought, but I can tell you how to unlock those thoughts inside your mind to put them to paper.
     WHAT IS A BLOG?
A blog is an open online journal filled with posts (articles) where the newest ones are usually displayed first.
This is a regularly updated informational website written in a less formal style by an individual or a group of writers that share their view/experience of a different subject, often intending to attract readers and generate online income.
Blogging is a story, and I am sure you have lots of stories to tell and opinions on things that are currently in the world.
Your life experience up to this age is a fantastic story. Crafted in the best way possible and put it up there in front of others.
You will be surprised by the impact you create.
People love opinions and hearing what others have to say.
To get started on your first blog, maybe think of a holiday you have had recently. 
Document the whole process from traveling and enjoying your experience, including any hints and tips for fellow holidaymakers and mini-reviews of any activities you have done.
Always try and keep the reader engaged; one of these ways is to include a ​bucket brigade copywriting technique.
This is where you add small sentences between paragraphs, simply asking things like "Do you want to know more?" or "here's the deal."
This is a proven way to increase reader engagement.
Passion – Value – Readers Appreciation -Connection – Success.
Also, read: how to easily manage WordPress when you're a beginner.
Also, read: why starting a blog is the best idea for an online business?
9 STEPS TO START A BLOG THAT WILL ACTUALLY MAKE YOU MONEY
     Step 1- Decide on Your Business Name & Register a Domain
The first step is to obtain a domain name that reflects who you are and what you will do online.
Knowing the right process for registering a successful domain name will be a significant phase in your business and your long term success.
In the long process, you will be focusing on all of the critical elements of getting your website indexed, ranked, and getting traffic to your site.
Before you get into the keywords, content, and rankings side of things, you need to get the first essential part of your business.
A domain name is your piece of virtual real estate. Having your .com, .org, or .net domain carries some real incentives.
These are as follows:
An Asset You Own

. You buy a domain, and you own it. Nobody else can come to take it from you. In the same way that I own iulianaluntrasu.com and a few others, you will own your very own domain. You are also in full control of every aspect of your domain and present yourself as a serious marketer.

Domains Increase in Value

. As you build out your website, your domain will increase in value, just like any real estate asset.

They Rank Better

. Having your domain will lead to better rankings in

 Google

, Bing & Yahoo, which own 99% of all searches online.
Try to choose a domain that relates to you and your blog, something like sarahsblogs.com, if your name is Sarah.
If you create a personal blog

, where you're the only blogger – ideally would be to have a domain with your first name followed by surname (ex: 

iulianaluntrasu.com

). In case anything goes wrong with the chosen niche, you can make changes quickly.

For a professional blog

 – choose your bran's name – this means that you are not the only blogger, and you can have guest posts if you wish so.
If you pick a domain name based on your niche keyword, make sure:
First, you are 100% sure about the niche you choose.

Second, make sure you don't use any words that sound scamming. For example, if you are in the make money online niche, don't choose easycash.com, richquick.net, free money.org, or anything like that. You won't look professional, and the chances to get rejected by people are quite high.

Avoid 

trademarks

.
NAMECHEAP
A Great Domain Provider That I Recommend Is ​Namecheap.
Most domain providers will offer the first year at a discount price of anything between .99p up to $2.99. Be aware that the price will increase in your second year but should be no more than $9.99 per year.
Out of all the other domain providers, Namecheap is by far the cheapest, and it is the No.1 on top of the list if you would decide to purchase your domain name separately from the Webhosting, which I am going to talk about a little later.
I would recommend going for a .com if possible, but if your domain is not available even after trying different variations, a .net or .org is still a great option.
Technically, you only need one domain and one website for your marketing business.
You can put out all your products, all your affiliate offers, your blog; you can have a support desk, your e-mail marketing, all on a single domain.
If you decide later to launch lots of products and services, yes, you can purchase a new domain for each one. But, in the beginning, you only need one domain.
Finding an available domain name can be a challenge, but it is usually quick, and you should have it done in less than 5 minutes to register.
You can use the Lean Domain Search tool if you're finding it hard to come up with a great name.
As you decided, you can purchase it here on Namecheap and then point the DNS to your web hosting.
You might prefer to buy the domain directly from the web hosting provider to avoid confusion, which is our next step in the process.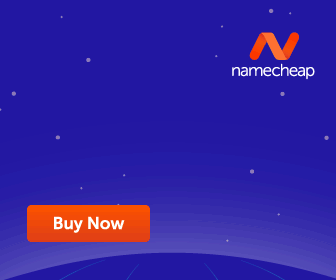 Step 2- Find Yourself a Host
Every website needs a host so it can be seen live on the world wide web.
A host provides a server for your files to sit on and get transferred onto the internet.
There are usually two kinds of hosting options open to you.
Shared Hosting

 -​ is where you share a server with other websites.

A Dedicated Hosting

 ​- is when you have an entire server to yourself, and only your files will be stored.
If you intend to upload blogs, then shared hosting is all you need. The dedicated hosting is more advanced, so you don't need to be worried about it.
     Things You Should Look for When Choosing a Hosting Provider Are
Nature of your website;

Value of monthly plans;

Uptime;

User-friendliness;

Reputation;

Customer Reviews;

Website Speed;

Add ons;

File backup.
I have shortlisted three hosting providers that offer all of the above at a cost that is affordable and suited to blogging.
Those are the top ones I used, and they stand over many others. Feel free to do the necessary research and decide the one best suits your needs.
GreenGeeks is the hosting I'm currently using, and so far, I have a great experience with them.
I am impressed with the speed sites ( I run five sites on the same CPanel).
They provide eco-friendly green web hosting. You can rely on fantastic customer support 24/7/365, 99.9% uptime, FREE SSL, and FREE domain name for the first year.
They have an amazing service of FREE web transfer. I transferred on their hosting platform 5 sites absolutely FREE and guess what? I didn't have to lift a finger.
They did all the work for me and it was completed in less than 24h. 😉
What's really cool, if for some reason, you're not happy with the service, they are offering a 30-day money-back guarantee.
There is not something I can say about many other hosting providers out there.
This proves that they believe in their service and are not afraid that you'll pull off.
If you want to start hard on the right foot, I recommend GreenGeeks.
Also, read: how to easily manage WordPress when you're a beginner.
Also, read: why starting a blog is the best idea for an online business?
D9 Hosting is a relatively small hosting provider but has all the ammunition to fire your website onto the web with an excellent uptime well above 99%.
D9 It is the platform I first build this blog on, and I have no reason not to recommend them.
With their regular automatic backups, your blog is 100% safe. If anything happens, you'll never lose your hard work. It can always be recovered.
I've experienced a lost website data before with a different host provider; it's a nightmare.
Besides, the price you'll pay for your first year of web hosting is unbeatable, and setting up your hosting plan with D9 is super easy.
You can register with D9 Hosting here.
One of the biggest hosting providers with a wide range of monthly plans.
They have an excellent reputation and outstanding customer service. Even do is not my No.1 favorite, Bluehost is recommended by many of the top marketers.
Plans start at a very pleasing €2.70 ($2.95) per month with a host of benefits that include a free domain for your first year.
I would recommend opting for the Choice Plus Plan at €4,98 ($5.45) per month, so you cover all bases for your blogging website.
You can check the Bluehost here.
Ps.
As a small note: Namecheap also is offering Webhosting and being honest, I've always hesitated to try them, but recently as I am testing some other types of websites, I signed up with them, and I can totally confirm they are pretty cool.
I host three other sites on their platform, and I have never had a single problem so far.
The sites are super fast, and the hosting price is actually ridiculously low.  
So if you're on a tight budget and you're desperate to kick off your blog, they are your best shot. 
As your sites grow, you can change the hosting if you feel like it, but I guarantee you'll be absolutely fine with Namecheap for a good time.
You can check them out here.
Choose one of the above hosting companies to work with, and you'll be on the right path for sure. Still, if you're not sure and find it hard to decide, take my word and sign up with GreenGeeks here. Save your time and move to the next step ASAP.
     Step 3- Set Up Your Account and Bring Your Blog to Life
If you choose to run your blog on any of the above web hosting platforms, the setup process is similar.
As scary as it seems to be, trust me, is nothing you should be worried about.
It is easier than you probably think.
If you choose GreenGeeks my No 1 recommendation go to their website here and click on the plans link. You should then have the image below on your screen.
     CHOOSE YOUR PLAN
I use the PRO Plan because I have more than one website. If you plan to stick to one blog/website, then the Lite Plan is just perfect. 
     CHOOSE YOUR DOMAIN
It's time to register that unique domain name we've talked about earlier.
If you have your domain already purchased with Namecheap or any other domain name platform:
Select the 'Use A Domain You Already Own' option.

Type in your domain URL and proceed.
If you need a new domain name:
Choose 'Create A New Domain Name' and type in the name you want to register.

Select an extension: .com, .net, .org, and check for availability.
     CONFIGURE YOUR PLAN
Did you find your desired domain yet?
Great! Click continue, and it is time to configure your hosting plan.
The next page will look like the pictures below.
GreenGeeks is offering monthly and yearly payment plans.
I recommend the yearly payment plan as you save in the long time run, and you'll also get your FREE domain.
If you can't pay for any reason, pick the monthly payment. I think you can always upgrade later on if you want to take a full year of hosting.
You need web hosting for your successful online business; there is no other way.
Choose your billing cycle and complete the process.
As you get the login details from your web hosting, open your CPanel, look for Softaculous App Installation, and click on WordPress.
     CHOOSE A BLOG PLATFORM
Many people opt to use ready-made platforms like Wix, Weebly, or Blogger, mainly because they are free and ready to use.
I would always advise hosting your blog with your custom URL (domain). That way, you are in total control of your content, and your work won't disappear overnight.
A free blog platform can always shut down your site without further notice. Also, your blog's earning potential will be limited because they add their own ads.
Those FREE platforms are privately owned, and in return for this free space you get, they place ads on your blog and take advantage of your backbreaking work of bringing traffic to it. You're not going to earn anything as a result.
The only platform I recommend for your blog is WordPress.org, and you'll get this option with my recommended Web Host provider.
Just follow the instructions, and in about 2 minutes, your blog will be live and ready for the next step.
Also read: how to easily manage  WordPress when you're a beginner without feeling overwhelmed to help you with the most important WordPress settings.
     Step 4- Give Your Blog a Nice Design
Log in to your brand new blog dashboard with the administrative URL: https://yourdomain.com/wp-admin/.
Your WordPress dashboard is going to look like this:
The black border on the left-hand side indicates that you are on your dashboard.
Here you'll find all your blog functions.
I suggest playing around and seeing how everything works before going into the next step of theme installation.
     Don't Be Afraid of Experiencing It!
Remember: always get in touch with me if you have any trouble
     PICK A THEME
Deciding on the theme for your blog is like finding your perfect match or the other half.
A good looking, clean WordPress theme will play an essential role in your business.
On your dashboard, if you scroll down to Appearance and then on Themes, you'll get on a page full of free WordPress themes.
I only recommend a free theme for playing around and learning.
For a professional and trustworthy blog, you want an SEO (search engine optimized) fully customizable theme.
Why Can't I Use A Free Theme?
I'm not saying you can't use a free theme.
Of course, you can.
The question is, what is your expectation from your blog?
A free theme has limited function. Many won't even let you change the colors.
A professional theme looks much better because you will be able to customize it the way you want.
Also, your blog performs better in search engines.
If you want to make money with your blog, you have to earn respect and admiration first.

Envato Market and My Theme Shop are great places to find your perfect blog theme.
For a superb feminine theme, Bluchic is your perfect fit.
Once you pick your theme go on the Appearance tab on your WP dashboard > Themes >Add New > Upload your theme.
     ESSENTIAL BLOG PLUGINS
A plugin is a piece of code integrated on top of your WordPress software to add more features to your blog.
Three important plugins you'll need to add to your blog are:
MonsterInsights – monitor your blog traffic with one of the best Google Analytics plugin.

Akismet

– protect your site from spam comments. 

Yoast or Rank Math SEO

 – a free powerful tool to improve your blog SEO and attract traffic.
I have been using Yoast for years, but I recently found Rank Math, and I think it has better functions.
Use any of them but never both together.
If you plan on building a food blog, you'll probably need a plugin like WP Tasty.
Also, read: how to easily manage WordPress when you're a beginner.
Also, read: why starting a blog is the best idea for an online business?
     Step 5- Add the Main Pages to Your Blog
Now we have a great looking theme; it is time to construct your blog's main pages.
     THE ABOUT PAGE
Probably the most important page of your blog is the About Page.
Most of the time, this is the first page a reader will want to check because:
This is where they get to know who you are and what's your personality.

What are the benefits of being your regular blog visitor?

Do you offer solutions to any of their problems?

Can they connect with your story?
     THE CONTACT PAGE
For your Contact Page, we will use a free WordPress plugin.
Go to Plugins > Add New;

Add 

Contact Form 7 i

n the search bar;

Install and Activate.
Next, on your installed plugins page, find Contact Form 7 and click on Settings.
The plugin will generate a shortcode. Hover your mouse over, right-click and copy.
Go to Pages> Add New to create the Contact Page > Place in the Shortcode.
      WHAT GOES ON YOUR CONTACT PAGE?
A short message to encourage your readers to get in touch;

Social media accounts;

An email address;

Paste your shortcode.
Have any questions? Get in touch or drop a message in the comment box down below.
     LEGAL PAGES
Those pages are nothing fun, but unfortunately, they are critical to your business.
Having a Privacy Policy and an Earning Disclaimer Page is a must for keeping your business safe.
Now, I am not a legal advice person, and I can't give you any advice on this matter, but luckily they are great legal page generators to help you craft your pages.
The GDPR Compliance is another thing you need to be aware of.
This is a notification for your readers about what will happen when they are visiting your website.
What type of information you are collecting;

How you are using that information;

Who you're sharing the information with, etc.
I use this plugin that looks like the picture below.
You must see it when you landed on my blog page. It is customizable to fit your brand colors and easy to install.
You can find it here!
     THE BLOG PAGE
This is the page where all your blog posts are sitting.
Depending on the theme you're choosing, the design will look different for any blog. Customize the layout as you like.
Also, read: how to easily manage WordPress when you're a beginner.
Also, read: why starting a blog is the best idea for an online business?
     HOW TO ADD A PAGE TO YOUR BLOG?
Some themes have already the main pages of your blog incorporated.
If You click All Pages, you'll see them all.
I usually delete the sample page and create a new one from scratch. It is up to you to keep it and just replace the dummy text with your text.
To create and add a new page to your blog, simply go to Pages on your WordPress dashboard and click Add New.
Add your desire text in the visual mode.
If you want to check how your page will look, before publishing, click on the Preview Tab on the top right-hand side of your page.
If you're not ready to publish yet and need more time to create the content of a page/blog post, click on the Save Draft tab, and come back to it later.
Add a Featured Image.
When you are ready, hit the Publishing button to have your page live.
     Step 6- Create an Attractive Logo
The first impression always counts.
If you made it so far and got your business name register, you need to consider the first piece of your business branding: A LOGO.
Your logo and tagline will appear on everything that relates to your business.
Don't freak out! You can get a professional custom made cheap logo design here.
     Step 7- Write Your First Blog Post
So, that's everything set up.
     WELL DONE!
Most people stumble at the first hurdle and fail to write their first blog post.
I highly recommend you get your first blog written and online as soon as you can.
Your first blog could be a short introduction about yourself and your interests and what your website will offer in terms of written content.
After that, a decent blog should have anything from 500 to 1000 words and be easily identifiable with your reader.
Try and make it fun to read with some punchy sentences.
Your content must be extraordinary.
Whether you are writing 1000 or 3000 words per article, make sure to offer great value and keep your readers engaged.
My blog is not a blog with hundreds of articles; you probably noticed.
Each of my posts is written over several days and subjected to a diffusion process that takes up equally time.
In this way, I make sure to publish amazing and super-deep content.
     I PUT MY READERS IN FRONT OF EVERYTHING.
People appreciate this kind of thing and will take your blog as a reference point.
And when you become a point of reference, a so-called expert, people trust you and buy your products or products you recommend.
     DOS & DON'TS, YOU SHOULD FOLLOW WHEN WRITING YOUR BLOG:
    DO
Be professional and get to the point;

Be original;

Use great images

;

Proofread, and proofread again;

Use bullet points (these are bullet points);

Ask your readers questions, then blog about the answers;

Be current and topical.
    DON'T
Ramble on;

Cover more than one niche per blog;

Copy content from the internet but get inspired;

Use your blog just for advertising;

Give up. It takes time, and you can do it!
     RESEARCH
​Look at other blogs. This is an essential thing that will give you ideas.

Check out what other people are blogging about that are successful. You may notice a gap in the market that no one else has blogged about.
     GOOGLE ​
Use the search engine to see what people are searching for. You can use the autocomplete function for queries to see what's topical.
     FORUMS ​
Have a look around forums to see any questions people ask; if you know the answer, you could write it in a blog format.
     LIFESTYLE ​
Use your own life experiences and write about them.

Whether you like holidays, sport, fashion or cooking, if you feel like you know enough about the subject, go and write about it.
     BUT WAIT!
   Set Permalink Structure
Before writing your first blog post, I want you to do one more setting.
Go to Settings and click on Permalinks.

Set your permalinks on Post Name.

Save Changes.
This will make your blog post links look nice and clean.
From something like this: https://myblog.com/2020/10/31/my-first-blog-post/
Into this: https://myblog.com/my-first-blog-post/
     Step 8- Increase Your Blog Traffic
Don't just wait and expect people to stumble across your blog.
     IT WON'T HAPPEN!
You need to get your website out there, and the easiest way to do this is through social media.
Create your pages on all the socials.

Create them in a similar theme to your website and add your URL in your bio.

Join blogging groups on Facebook, upload your articles, and point people towards your page without being too spammy.

Connect with other bloggers.
'Newsjacking' is a term used when somebody comments on a national news post and can be a great way to get noticed.
If you see a press release or article about a topic you blog about, get involved in the comment section, and offer advice or tips.
Useful training: Pinterest Perfection Masterclass.
Start a freelance writing business: Write Your Way to Your First $1k.
Foundational elements for increasing blog traffic: Ready Set Blog for Traffic
     GO VIRAL!
This is the hardest thing to do but also easy if you know how to do it.
     TWEET SOMETHING LIKE THIS
If you're wondering how I did this sweet looking tweet and placed it inside my content, I am using a free plugin called: "Click To Tweet."
     YOU'RE MORE THAN WELCOME! 😉
The key to creating viral content is to blog about controversial or highly discussed topics.
This is where 'newsjacking' can work as it gives you an idea of the demand subject.
Your content will have to be of the highest quality to get you on the map – due to the high level of blogs on hot topics.
     USEFUL RESOURCES
     Step 9- Make Money with Your Blog
Now you have ideas on getting more traffic and followers, here are a few ways to start making money with your blog.
      1. AFFILIATE MARKETING
Affiliate marketing allows you to advertise third-party products and earn on sales.
This works by adding tracked affiliate links to your blog. Then, you make a small commission every time someone clicks on the link and makes a purchase.
Recommend only products /services you use or have used that you trust and are of excellent quality.
High priced products and subscription services will make it easier to succeed in Affiliate Marketing.
They are probably a bit harder to sell, but you earn a more significant commission.
As from my experience, the effort of promoting a $10 product is equal to a $200 one. Requires the same amount of time to convince a person to purchase the product. Makes no sense to promote cheap, low-quality products/services.
Make sure to add your affiliate disclaimer at the top of each article to keep it legal and avoid trouble.
     TO AFFILIATE
You can join several Network platforms that host companies that are looking for affiliates.

If you know a company that you'd like to promote, reach to them and ask if they have an affiliate program to join.

Some companies have an affiliate program linked to the footer of their main website.
     AFFILIATE MARKETING PLATFORMS / NETWORKS
     2. ADD BANNERS
These work like affiliate links but stand out more.
They are adverts for products or services offered by companies.
If your blog has a lot of traffic, you can sell banner space for a decent return.
For bloggers who are just starting, I recommend using Google Adsense.
Adsense offers a CPC (cost per click), which means you get a small fee for every click the ad receives, or CPM (cost per thousand), which is the fee you receive for every 1000 impressions of the ad.
As your blog grows and you have more traffic coming in, you can move to another add management services like Mediavine.
     3. CREATE/SELL YOUR OWN DIGITAL PRODUCT
If you are confident in your market, then one way to make money is to sell courses or tips in the form of an eBook.
Creating an eBook is easy but can be time-consuming.
You will need at least 25 pages of content about a persuasive topic that is in demand. Once you have your eBook, you can sell it many times on your blog.
 How to create your first E-book for Instant Authority.
What other digital product you can create as a blogger:
Membership Sites – Subscription sites offering training and building a community.

Online Courses:

 Teach what you learned by offering virtual classes in audio, video, or text format.

Photography:

 Upload and sell your high-quality photos on Stock Image sites or directly from your blog.

Printables – Planners, organizers, calendars.
The best training to learn step-by-step how to create and launch your digital product is Partnership 2 Success.
You'll be trained by one of the best internet marketers, get full support in launching and promoting your product, and much more.
Check Partnership 2 Success here. Please note that this training is best if your chosen business niche is in Internet Marketing.
Also, read: how to easily manage WordPress when you're a beginner.
Also, read: why starting a blog is the best idea for an online business?
      4. SELL YOUR NEWSLETTER
If you offer a monthly newsletter to your subscribers or followers, you could sell advertising space in your newsletter.
This is a straightforward process.
You need a decent following, and you may need to provide evidence of this to show to any prospective advertiser.
     5. WRITE FOR A BRAND
This requires you to have an audience and good blog traffic.
If you are a recognized blogger, brands may ask you to write an article about their products/services or a new release.
You could be cheeky here and contact brands directly, asking them if they are willing to sponsor you in return for a blog post (many bloggers use this method successfully).
     YOU CAN WRITE A SUPER HIGH-QUALITY ARTICLE TO:
Publish it on their blog – you blog FOR them;
Publish it on your blog – you blog ABOUT them.
Having a blog has incredible results on job offers!
Isn't it extraordinary in this period of crisis?
     6. THERE ARE A THOUSAND WAYS TO MAKE MONEY WITH A BLOG
If you are a painter, you can be commissioned to work;

If you are a stylist, you can sell your shirts;

If you make costume jewelry, you can sell your creations;

If you are a webmaster, you can sell your services.

Furthermore, an incredible market is that of 

consultancy.
     WRAP IT UP!
My strategy for making money with a blog is the most efficient and ethically correct.
    IT PROVIDES A PATH OF THIS TYPE
Study the market;
Exercise good influence;
Work on the sentiment of your audience.
     I know you might feel a bit overwhelming now! BUT…
     HOW DOES A SNAKE EAT AN ELEPHANT?
     One bite at a time, isn't it?
That's what you need to do.
Take baby steps and keep going.
Trust me is not that hard.
Once you get into it, you'll figure out the formula, and things will be much easier.
The only way to see how it feels like when you have complete the puzzle is to keep pushing.
     PLEASE
If you still have any questions about how to start a blog or face any other challenges, please let me know.
I will be glad to help. Or, I can build your blog for FREE! Learn more here!
I appreciate you took the time to read it all up to the end. If you find this information useful I would love to hear from you and why not, please share it with your friends.
BUSINESS RESOURCES I RECOMMEND FOR STARTING AND GROWING YOUR UNIQUE ONLINE BUSINESS
IF YOU LIKE THIS ARTICLE, PLEASE:
* Save it on Pinterest.
* Share it with your friends on Facebook or Instagram.
* Tweet it!